In his third piece as Writer-in-Residence for Instantloveland, Sam Cornish discusses materials, means and meanings with artist Susan Roth…
---
Part One: January and February 2020
Susan Roth: 4.1.2020
Happy New Year! Though the state of worldly matters frightens, things plough on as there is no safe place. Certainly we all feel the pressure.
I had the good fortune of some travel through November, seeing giant shows: 'Hans Hofmann' at Peabody Essex Museum, 'Early Rubens' at the Art Gallery of Ontario, 'Flesh and Blood: Italian Art from the Capodimonte Museum' at the Seattle Art Museum; and honestly, as I list, I marvel. While in Toronto we saw the new installation of the Mirvish space with perhaps the most significant and beautiful Olitski show I have seen in my lifetime. Now home I am devouring catalogues and reading every Simenon I can get my hands on! I am in the studio, this being my favourite time of year: the quiet. As long as there is the comfort of heat, a good larder, studio supplied; well, that's it, isn't it!
So I wonder if you are still considering a dialogue?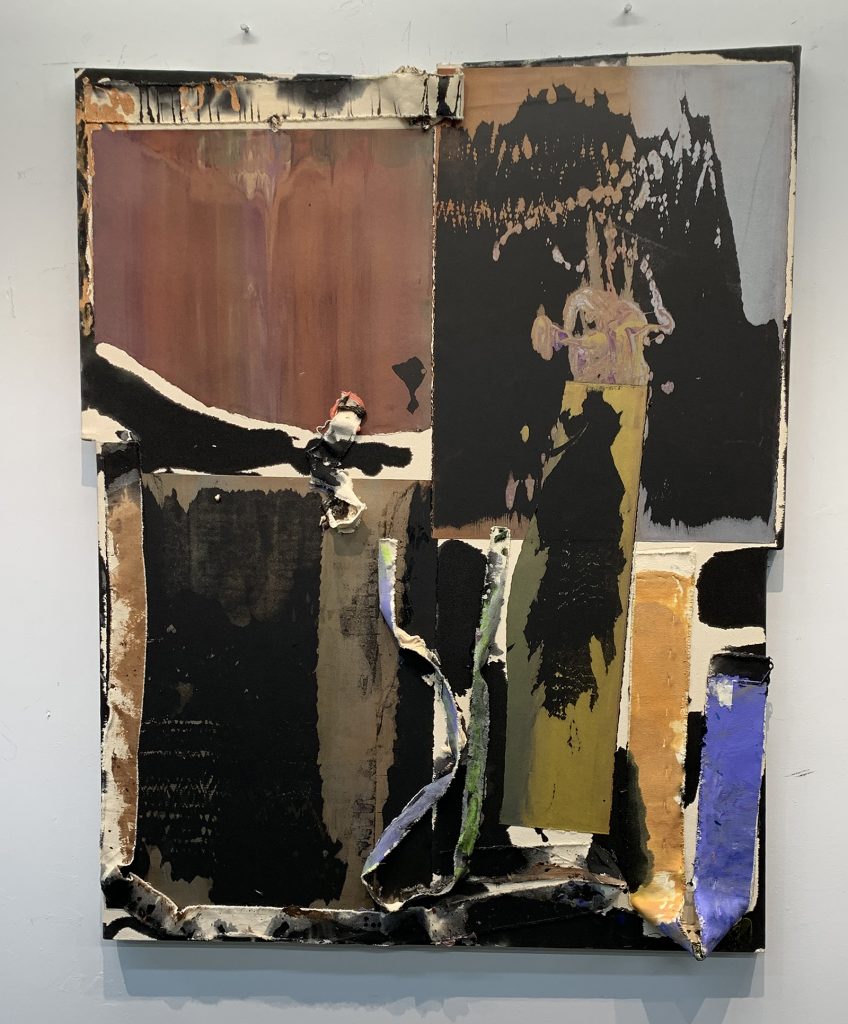 Sam Cornish: 5.1.2020
I'm sorry this has taken so long for me to follow up on my idea. 2020 has not started well – I don't know many people who are optimistic about the future – I can't see the world getting better before it gets worse. But, to art…
I'd like to start by talking about Georges Braque. I'm not sure if this seems a strange beginning, but looking at your recent paintings in the catalogue I was reminded of his work – particularly his late paintings.
The connection seems to be there in the proportions of the pictures; in their greater sense – seen against your earlier work – of interiority (of describing or presenting an interior space); also in the way they unify disparate areas, while allowing these areas to retain a sense of independence, even as they filter through or overlay each other. There is also a connection in colour – greens, yellows, and purples situated within black and then shot through with white as a border element, a distant memory of the light around objects. Did you consciously have Braque on your mind?

I should say – I am specifically thinking of a connection – speculative, and by no means exclusive – to Braque's late studio pictures. And of course, there are clearly lots of differences!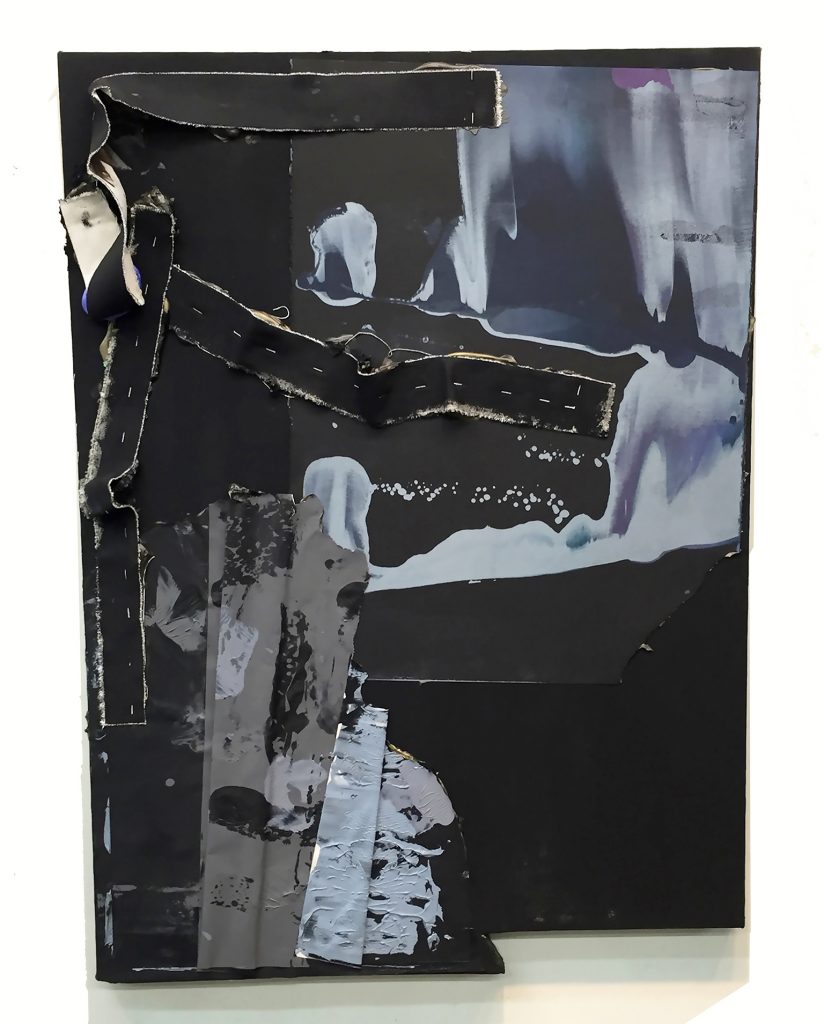 Susan Roth: 10.1.2020
Braque is a wonderful place to begin. I was stopped, I smiled. Pictures began to appear before me, dreaming of sand, metal filings and papier collé. You are insightful.
Sadly, I did not see the Royal Academy Show of late Braque. The Met has two pictures I know well: 'The Studio' (1949-50) and 'The Billiard Table' (1944-52). Consciously, I have little but my means, my materials, to carry me forward – I am an intuitive, an emotional painter – yet there is a confluence.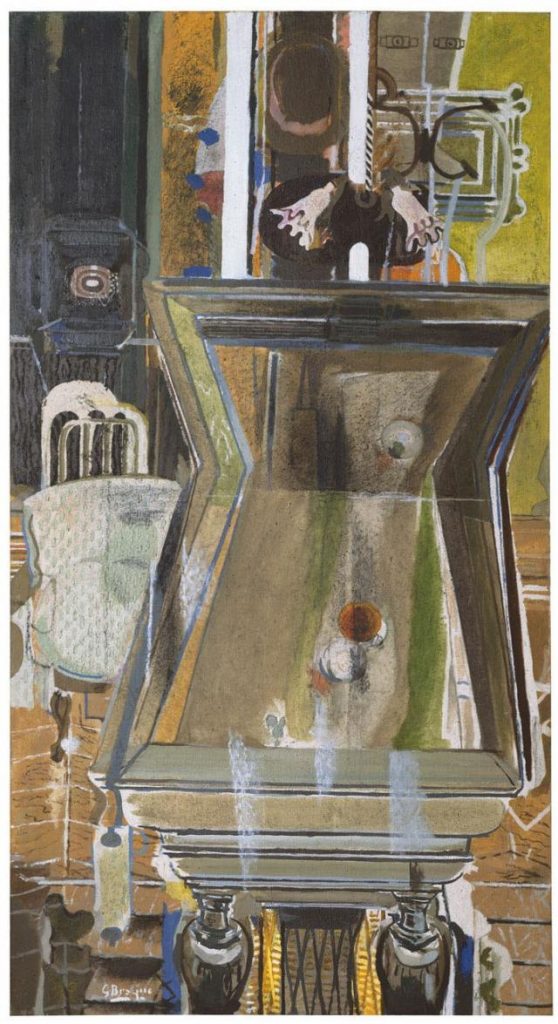 Both Met pictures display Braque's love of the act of painting. He finds realities within his interiors by lighting with white, as Cezanne used the light of his raw canvas support. These lessons echo in my recent work. The interior light of the canvas serves as a reminder of new beginnings, with the hope the viewer can join in contemplating them. To this end, as in late Braque, tone counts more than hue.
Sam Cornish: 14.1.2020
If your recent pictures have an affinity with Braque's late pictures, then perhaps your early works relate more directly to the starkness of some of his foundational papiers collés – in the simplicity with which he laid down a small number of off-square geometric elements on the backing paper. Although of course with your shaped canvases the 'ground' is wall, not paper. Can you say something about the importance of collage to your painting? And if your approach to collage has changed from the earlier to later work?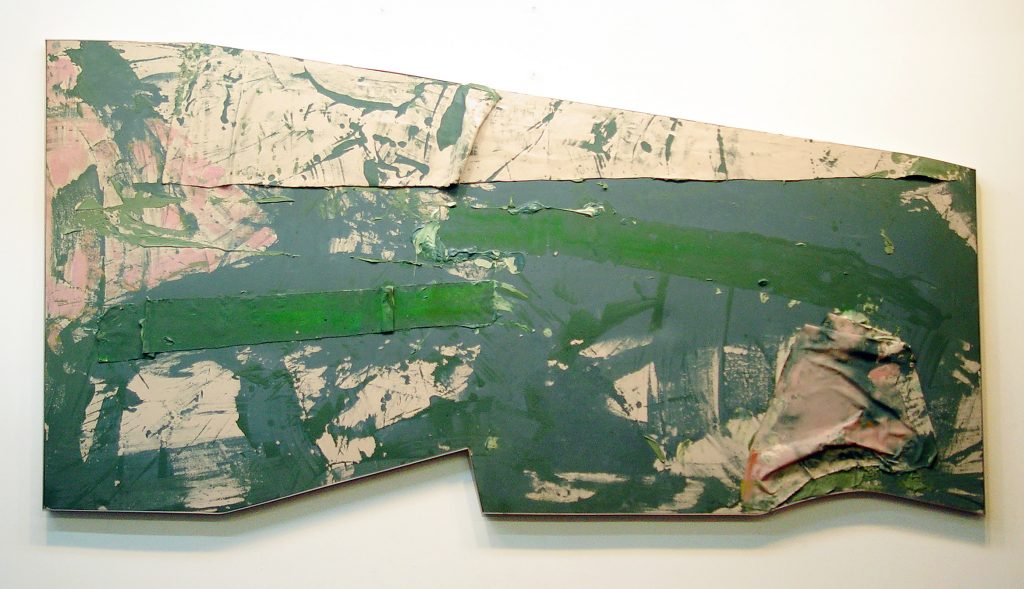 Susan Roth: 14.1.2020 & 15.1.2020
I have often wondered why I seldom get asked about collage. My day has got away from me… this question is a large one… I want to be full and clear. Though I engage in the process of collage, I seldom think of it as descriptive of my practice. Odd, I suspect.
My working process allows an open-ended search for material means. This way of moving forward has not changed. It might be defined as collage, however I refrain from limiting my language. The layering in my work is less a layering of material than a layering of sensations. Layering allows the body, unencumbered, to feel duration.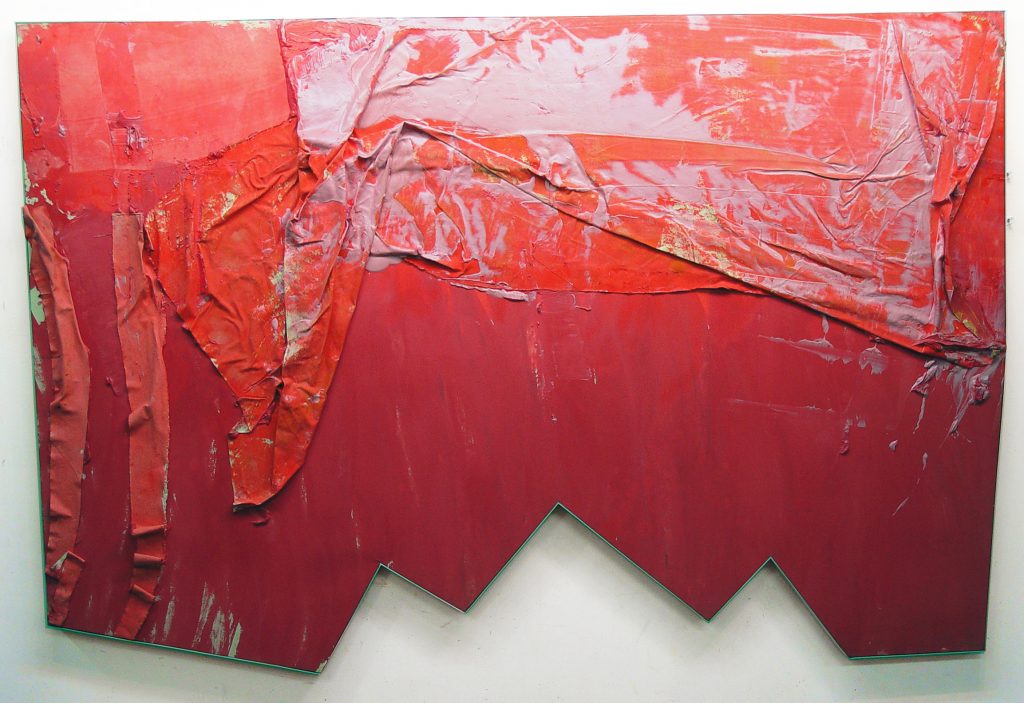 My scissors feel like a birthright. They were left to me by my paternal grandfather, his trusted tool; he was a cutter, having done designs for Balenciaga, among others. My maternal grandmother was born with cervical ribs – the turn-of-the-century surgery returned arm use to her but her lack of hand strength had her using scissors where her fellow pastry chefs used knives (she worked in NYC's first Michelin-starred restaurant). I learned early: invent your own means. The simple law of materials: they determine the making.
Recently I was asked if I saw collage as reconciliation, as metaphor for restoration. I had not thought of it. I was asked if I used collage as a means of recycling. I had not thought of that either. All fine with me! What I think about is how hopeful it feels to work in new media. I desire to align myself with new beginnings, and whilst context is everything, the internal workings of these pictures seem to embrace uncertainty, something ever present in my work. The demands of my art have required collaboration to create new material properties for paint, giving a wider vocabulary to the medium – the very subject of my art.
Yes, I wholeheartedly agree, the 'ground' as wall is a through-line in my work. I am an object maker.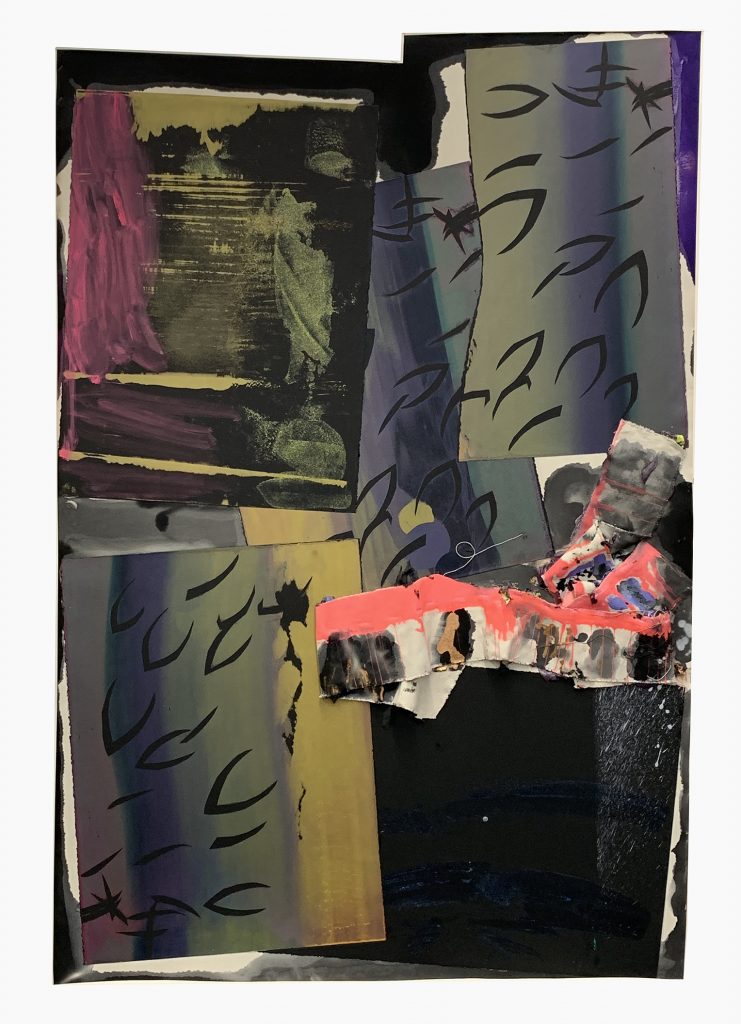 Susan Roth: 21.1.2020

My copy of Goulding's 'Braque's Late Works' arrived. I am transfixed. I am busy putting myself before paintings I have seen, remembering where and when Braque's oeuvre seeped in.
Curator EA Carmean took us through his 'Papiers Collés' show (1982 National Gallery, Washington DC. /Centre Georges Pompidou, Paris). I vividly remember my excitement and my buoyancy at finding a sense of support in the work. Matisse's cut-outs were not seen as his best work; to be working with scissors was considered silly at best. Braque and Matisse used scissors. Collage's imperative came naturally to me as the way forward. I had to persist as my feeling for this means came directly to me despite naysayers. Both artists and critics questioned this way of working. I felt I saw its implications. It was tough going, but I feel rewarded. Here in the States Picasso buried Braque and Derain, leaving them at the station for military callup, then reporting he 'never found them again.' Translation: Braque lost it. War kills artists. Competition, with its winners and losers in the market, is inevitable. Take the long view, like planting an oak, and perhaps live long enough to see change.
In 1960 I was given a little book – 'Persian Miniatures of Behzad and His School in Cairo Collections'. The construction of image, multiple perspectives, outstanding colour, continue to inform as I turn the pages of the Shahnama of Shah Tahmasp, The Persian Book of Kings. Like late Braque, the split screen or multiple imaging feels timely. We are singular. We must have ways to reconcile disparate views.

The lesson learned here: the time that the work is created in requires new language, new techniques to properly address the moment. And yet, Persian illustrated manuscripts from the sixteenth century, Japanese screen painting, and the Western pantheon all address similar content. El Greco features large with me and a grand show opens in Chicago in March. I'm saving! Though I have not had the advantage of much travel, I dream.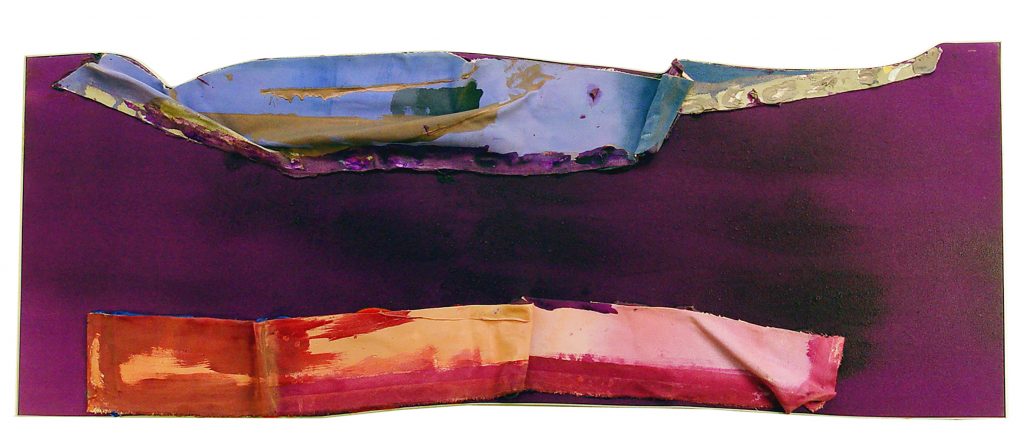 Sam Cornish: 30.1.2020

So many directions here! Hofmann, El Greco, Persian miniatures, Rubens, multiple view points, means and ends. For now – to narrow the focus a little – can you say something of why the Olitski exhibition at Mirvish space was the most significant and beautiful you have seen? And can you also say something of your past engagement with his work – when did you first see them? What parts of his work are especially significant for you?

Susan Roth: 7.2.2020
It is snowing! The quiet of a big storm is wonderful as long as the heat is on!

My mother was a war bride, a London girl, from Shoreditch, with a deep love of culture. With her I saw all manner of art. It surprises me when I confess to seeing Kenneth Noland at Tibor de Nagy Gallery, NYC and Helen Frankenthaler at the Jewish Museum, NYC, in 1960. I am uncomfortable with how young I was when I began looking, how young I declared myself.
I first became aware of Olitski's work in 1969. I was stunned, encountering his sculpture at the Met. Its presence remains with me, often enlarging when I come upon it anew, as installed at the new Mirvish Warehouse. I am never disappointed with it, for even when it is a glorious failure or needs restoration, its wilful freedom astounds. These works stand beside nature, autonomous.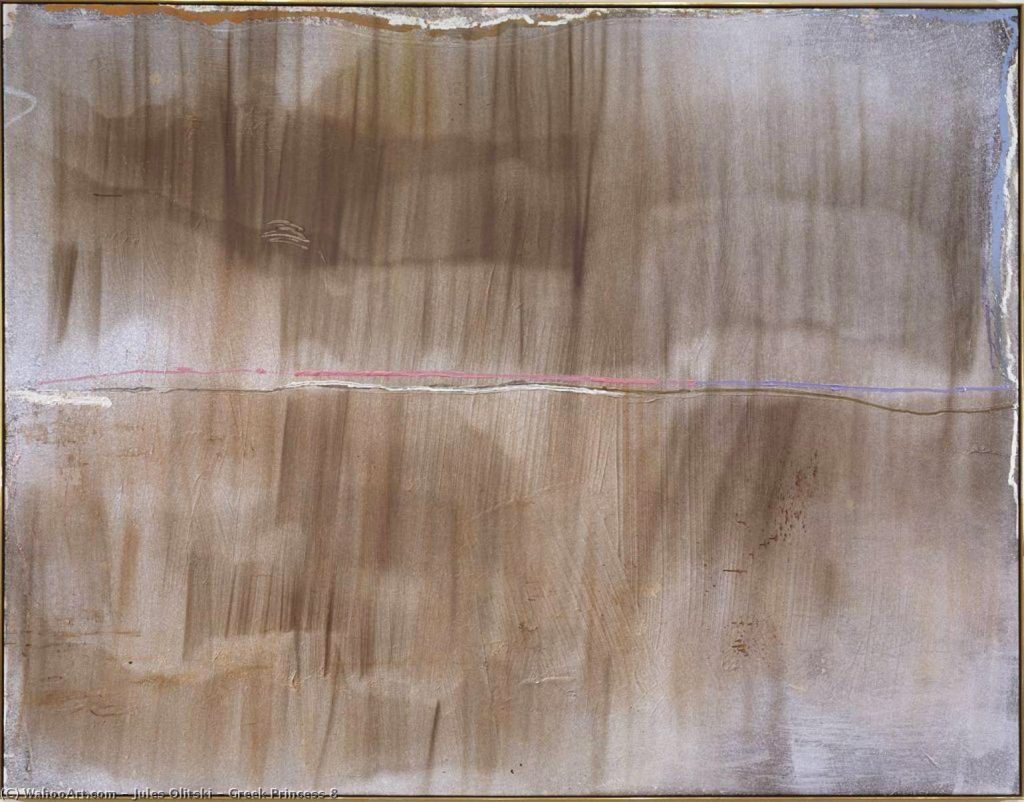 Olitski's return to matter in the 1970s speaks to me – in these paintings where you feel the stuff of their birth. Paintings such as 'Hyksos II' (1975) or the 'Kristina' or 'Greek Princess' series. His 1970's pictures are among painting's most abstract statements. Their power resides in an inward journey, and in today's climate, where quiet seems elusive, a hard won success. I feel a great empathy with their instinctive creation, and a desire to emulate. A goal of great art is re-engagement with its continuum, with what came before.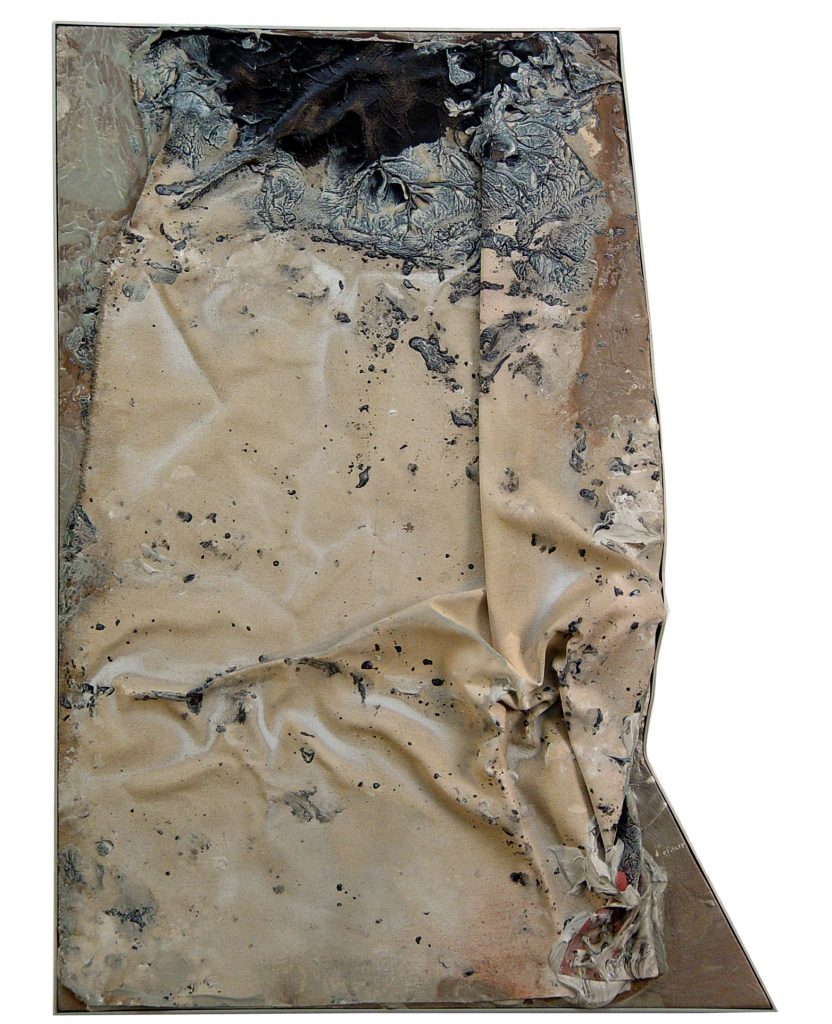 My prevailing interest is taste. Though the word implies a gathering of information, this intensity of feeling is more narrowly defined of late; alas, we reside in our own time, however nostalgic we might be for another. I do not limit what I look at, nor limit my associations. Taste is the accumulation of inspirations and insights garnered from experience and so is inherently political. Henry Geldzahler was an early hero of mine. His show at the Metropolitan Museum of Art, 'New York Painting and Sculpture: 1940-1970' remains a landmark to an entire scene, probably impossible today. In the current situation, which lacks the watchful and patient clarity of restraint, the simplicity of Mirvish's space is spectacular. The space stands with the art as a partner. What makes this show outstanding is its breadth – here meaning it is a complete definition of taste, a line in time connecting an artist and two collectors – Audrey and David Mirvish. The mirroring of achievement is remarkable.
Olitski has left a prodigious number of great works. But my relationship with the work cannot be separated from my relationship with the man. (For some years Jules & Kriss Oliski called me 'The Genius'! I still laugh when I think of it!) A coterie is vital for an artist to bridge the abyss between recognition and artistic value. I lost a friend and ally when Jules passed. Jules sent me paint from his studio in hard times. There are many stories of encouragement. Most enduring are the conversations about materials, enduring as the relationship between making and looking, between observer and object kept changing! The act of seeing and being seen is extraordinary. And isn't that what art is about, this poignant moment?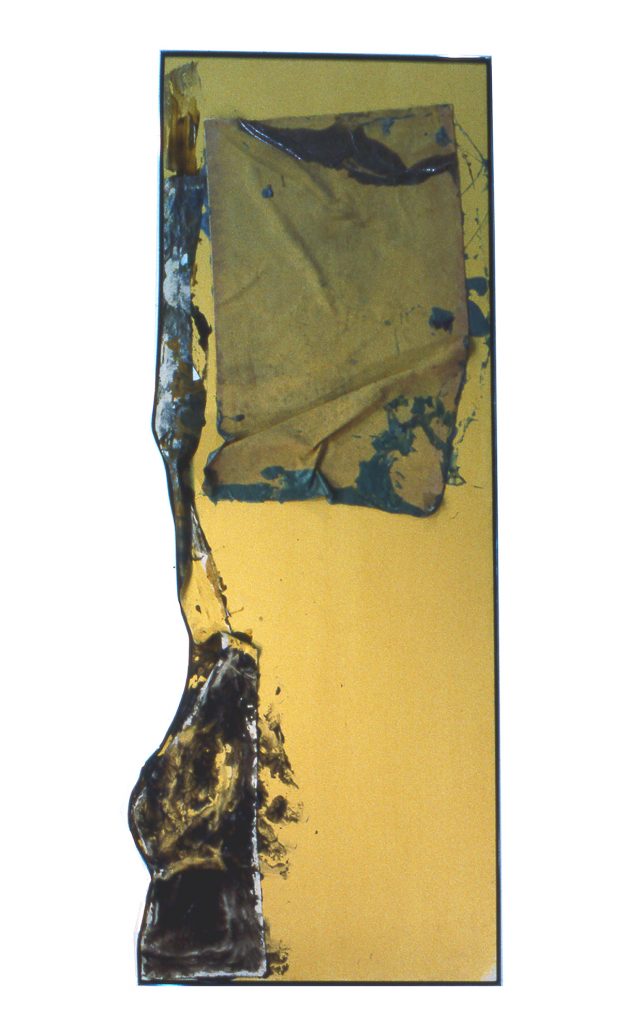 Sam Cornish 7.2.2020
Thank you Susan. I want to discuss – or at least to flag up – the importance of the painting tradition ofEurope (and beyond) to High Modernism – and I am uncertain of how you like that designation. Also, I'd like hear something about your relationship with Sam Golden – and perhaps the difficulties of reconciling carefully considered technical means with improvisation, energy, freedom.
Susan Roth 8.2.2020
The force of tradition dominates all art, as great work urges us onward. Often we can trace artists to their indebtedness to past masters, no matter how original the work. This wonderful series of begets connects us all. Correlation does not imply causation; but here it matters not. I am fine with the designation 'High Modernism'.

When he set up Golden Artists' Colors at the end of the 1970s, Sam Golden asked Clem Greenberg whom he might call to discuss his endeavour. Darryl (Hughto) and I were two of the five names Clem gave. It was a miracle! Sam & Adele Golden came & spent the day. Some months later Darryl was invited to the workshops at Emma Lake. I did not want to go. At the time we had no heat in the studio… summer was a time to press on with work. Jules Olitski repeatedly phoned to urge me to go, saying he had done important work there; Emma Lake was life-changing, he said. I went.
I returned home from Emma Lake anxious to get on. Nothing was presenting itself as a language with a vocabulary I could explore. I struggled to begin. Then, in a moment's reverie, I tossed many pieces of canvas, off-cuts from previous works onto a stretched support. Frustrated, I returned home. The explosive emotion I met Darryl with occasioned an immediate return to the studio. 'Wow! Breakthrough!' he said, 'How are you going to finish it?' The unexpected look of it, the break with tradition made my world vibrate. I was so frightened; I thought I was throwing in the towel, only to find the towel was it! The extraordinary possibilities were overwhelming. A door had opened for me.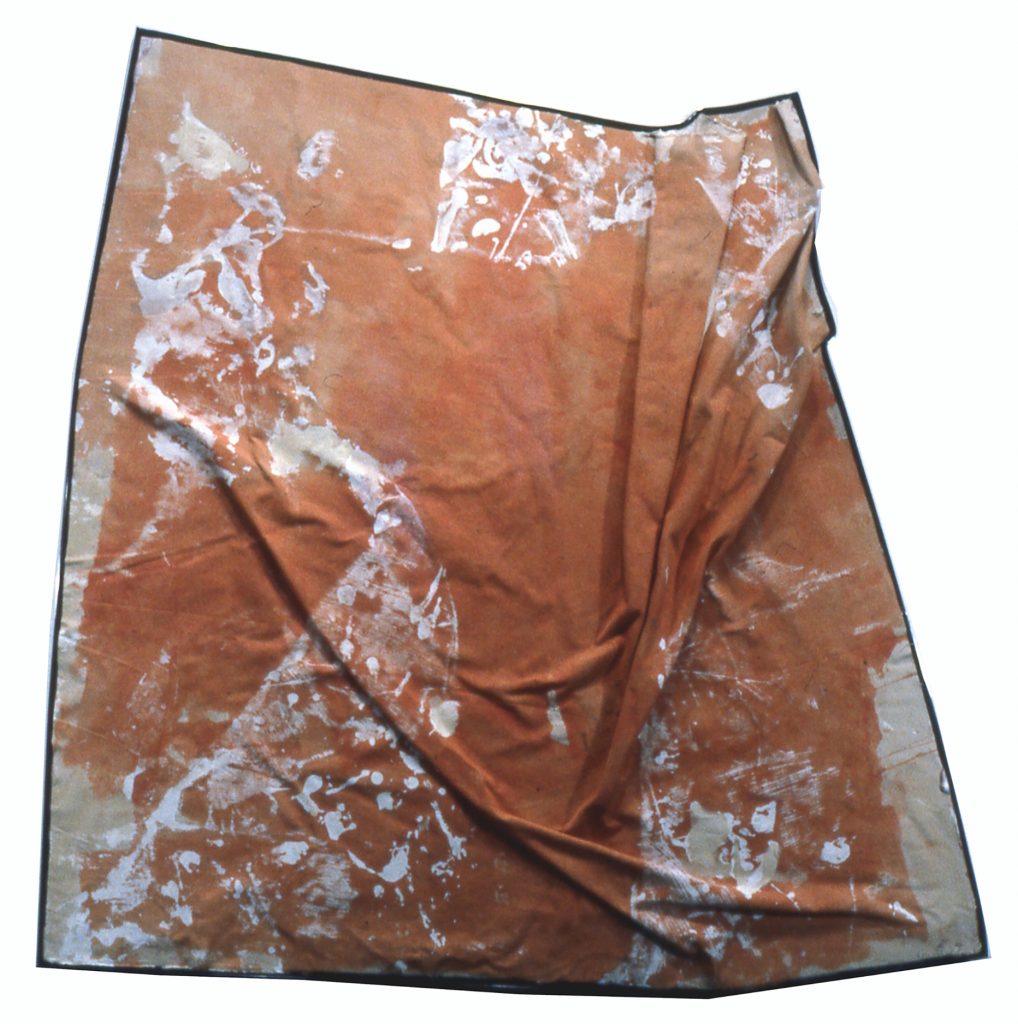 I called Sam and requested a visit. We sat on buckets looking at a pile of canvas on canvas, discussing how to get it to the wall. Sam was back days later with the first of the heavy mediums. Until this point the medium, the glue part of the paint, was too thin to hold the roiled canvas stable. I continue to unpack all I learned from Sam.
Between conception and realization there is a fundamental discrepancy. It is here that Sam Golden's knowledgewas indispensable to the development of water-borne systems. Like the great colour men of the past, his collaborative nature gave me the means. My relationship to Golden continues to enable me. However, the nature of this experimentation is risky as it gives little security of mastery. I suspect it is a matter of surrender. Colm Tóibín quotes Elizabeth Bishop, 'Surely there is an element of mortal panic & fear underlying all works of art.'1Toibin, C., 'On Elizabeth Bishop', 2015, Princeton University Press
Sam Cornish 8.2.2020
It seems we are back to collage again – canvas on canvas. But it is striking that a manufacturer of paint is immediately involved. It is not collage's 'foundness' that is the issue, but rather its ability to be subsumed into the practice of painting. I think that is right?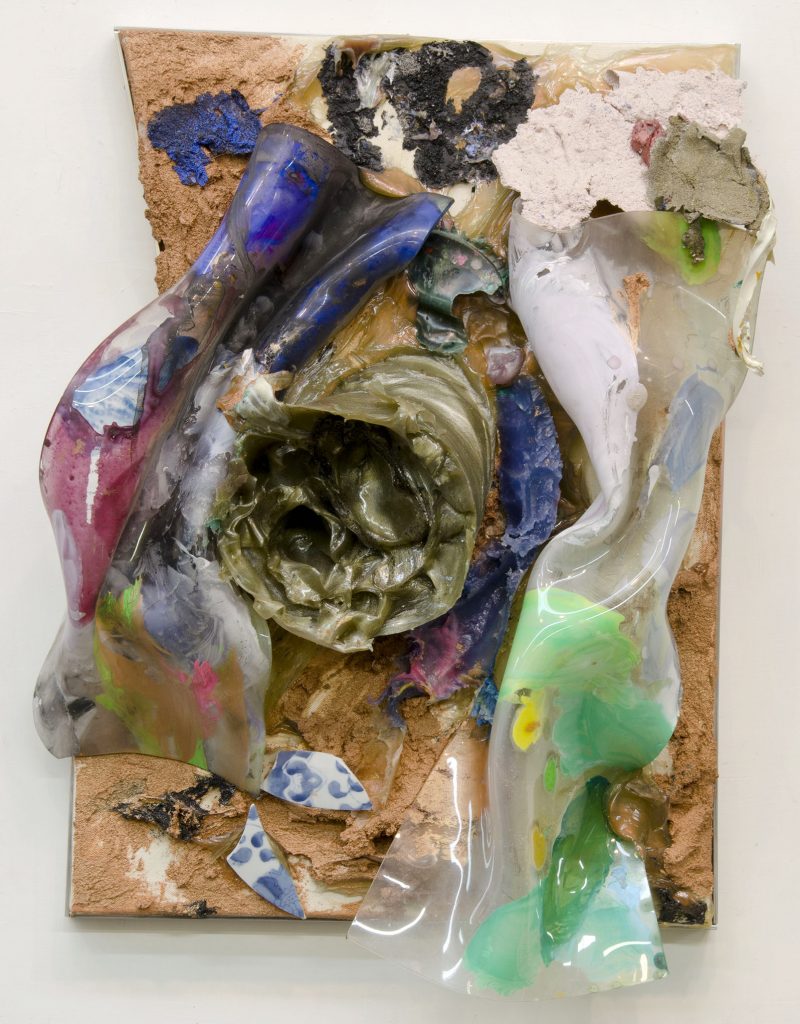 Susan Roth 9.2.2020
I agree with what Joyce says in Ulysses – you think you're escaping and you run into yourself! Longest way round is the shortest way home!
While it is true few are interested in the technical matters of painting, they do have everything to do with its making. Paint is pigment and vehicle; paint is colour and glue. I knew developing a medium for my canvas-on-canvas works would not be difficult with Sam Golden. We spoke the same simple language. Sam shared stories of Morris Louis, knowing I felt – and still feel – that Louis is more radical than Picasso or Pollock. Through Sam one apprehended the type of collaboration that Modernism requires.
With the delivery of the first bucket of the medium that could fix the canvas to the wall, Sam, Darryl and I had a conversation. Sam asked how I felt about sharing it with the wider world. I responded, anyone and everyone. That's it. I will do this with it; you will do that; together we advance. The first buckets that went out were called 'Susan's Mix'. Many subsequent mixes and mediums Sam and I developed in collaboration have similar stories: coloured gesso, now called high load, carries the highest load of pigment per volume of medium; lightweight moulding paste lightens the support while supporting the extensions of the roiled canvas; pumice gel, formulated after I asked Sam and his son Mark for paint like concrete. By varying the mixes along the way we were better able to understand the material's present limits. My current work, the 'Black Dresses', was made possible by my use of paper coated with an invisible varnish, which makes framing with glass unnecessary.
It is my great good fortune to have come of age at the same time as water-borne systems were in their infancy. To be working on a new system as it comes into being is exhilarating.Working with Sam, and now Mark Golden, has made much of what I do possible.
I agree that collage was once the lingua franca of modernism, but has now been subsumed into the practice of painting. My practice takes into account the sculptural practices of David Smith. I am still mining there. I will send you a catalogue of my work with synthetic stone, developed with Mark for a workshop Darryl and I led in Martha's Vineyard in around 2005. I love working in this material. It handles like clay, but no kiln. I have a passion for Scholar Stones, as I expect you can see!

Sam Cornish 12.2.2020
I'm very pleased to see these sculptures. They remind me a little of the sculpture of William Tucker and the paintings of Bram Bogart, two artists I have written on. But they appear – at least from the photographs – to have an aerated quality. More like pigment suspended than 'matter pigment' invested with the massiveness of the earth, as in Bogart. Is the colour both applied to and integral to the material? Regardless of whether that is literally the case, that ambiguity is something I remember from your steel sculptures I saw at Lewis Cabot's, where there was a distinction between the steel as a coloured surface, and the steel as a surface to which colour was applied. The ambiguity seems to be a way of keeping the work within the realm of painting, rather than of sculpture…
Susan Roth 13.2.2020
André Emmerich invited me to spend some time with his Bogart show.  You are correct in your extrapolation. The synthetic stone developed with the Goldens accepts pigment well, so the integration reads like paint; some work reads like a free-standing painting.  Ambiguity is a good word to express the vision.
---
Part Two: May and June 2020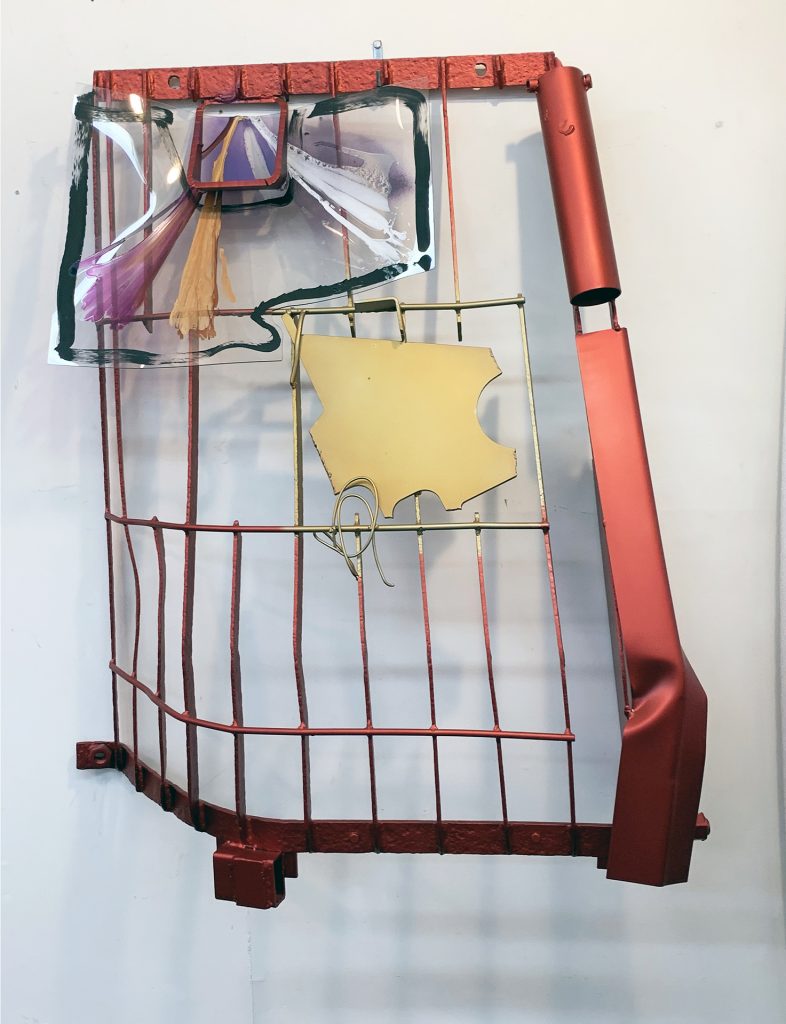 Sam Cornish 28.5.2020
Perhaps we could continue by exploring your attitude to sculpture a little more? You've already mentioned David Smith and Olitski's sculpture, as well as Scholars' Rocks. And I know you think highly of Anthony Caro and Tim Scott. I saw some of your steel sculptures at Lewis Cabot's. I liked the punky energy they have – their looseness, and their speed, the unexpected details – although they are about control and concision as much as energy (energy controlled rather than unhinged). In some ways they seem like stripped-back versions of the paintings – the bare bones, or the stretcher-bares – but they are also complex in how they mix different levels or qualities – smoothed and jagged; line and plane; colours fading over more rigidly defined supports. I understand that these steel sculptures came out of a specific invitation to use Lewis Cabot's sculpture facilities; in the years since making them has their example changed your attitude to making paintings?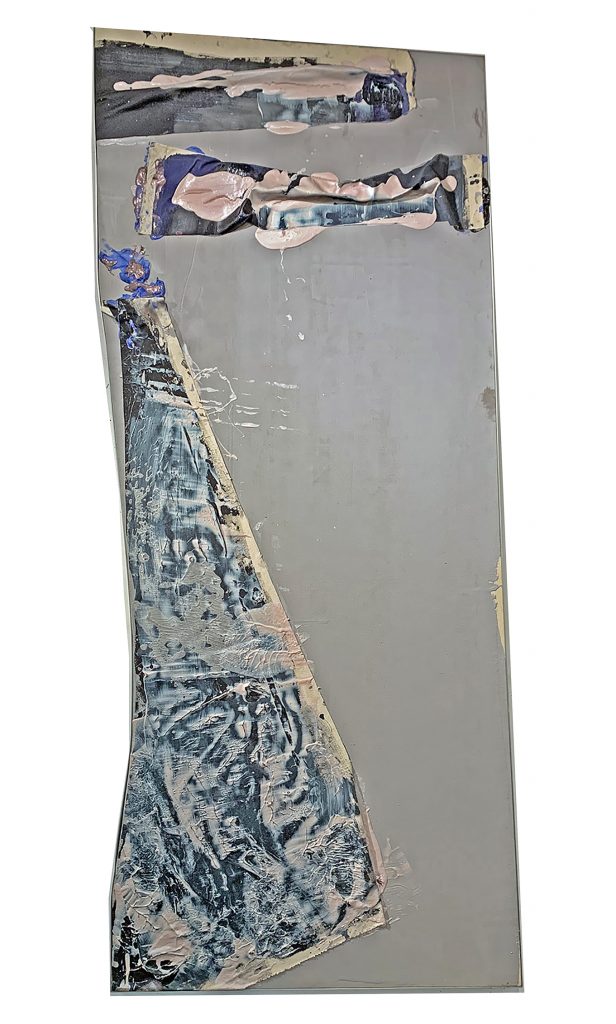 Susan Roth: 30.5.2020
Though the canvas god is a jealous lover, I have had some wonderful opportunities, forays, never (that I am aware) giving up on any way to go forward. Materials announce themselves, each having its own integrity. The steel made me aware of separateness and togetherness. I was enabled to feel these qualities because of the properties inherent in steel; its hardness and structural flatness. All these disparate parts made whole. It is interesting to me that I conceived their colour as two-sided, though not back/front. They are paintings; they are not paintings. This way of colour seems to unsettle the viewer, hence the effect of controlled chaos which you noted.

Darryl and I often worked in the environs of Lewis Cabot's place at Harpswell. So, when Lewis bought welding equipment, he offered it to us. Beginning, I had a rough go of it; I did not want to make constructivist metal work. I struggled to find a voice. The finishes were discovered, as I did not follow industry standards, the gradations new and exciting. Once I was able to 'sing' in steel I was reminded of my pictures of the early 1980s, like 'Mount Vernon', 'Bandolier', 'Cover Me' and saw them with fresh eyes. Your recollection & understanding is concise, we agree.

The experience in steel informs my new work – the 'Black Dresses' – as the approach is so similar, the part-to-part still cutting silhouette from surface.

Thank you for your continued interest; it means much to me. These are frightening times and I often have difficulty putting the terror aside. However I was raised to be a soldier and I carry on.
Sam Cornish 5.6.2020
Can you explain more of what you mean by 'as two-sided, though not back/front'? I can see from photographs that some of the sculptures do stand away from the wall – although the few I've actually seen in the flesh were either stored or displayed on or directly against walls, inside or outside. Are there any that you would consider free-standing? By which I mean, displayed completely away from a wall.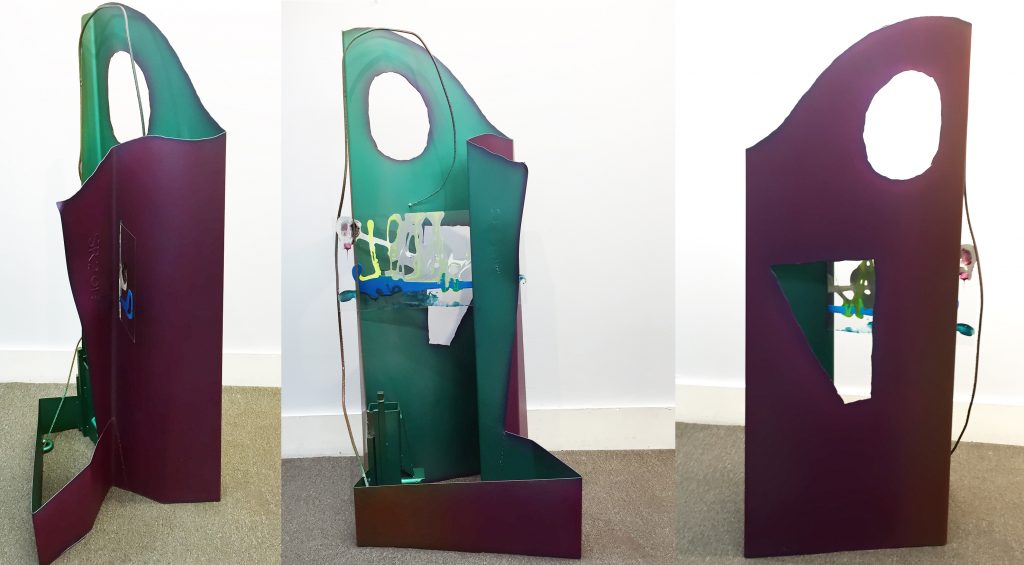 Susan Roth 10.6.2020
Notes on back/front issues came on early, perhaps from the start. Artist friends gave me rolls of their 'failed attempts'; I then made use of their canvas, covering their images with medium, flipping them over on to their new canvas support, forever hiding their images.

Works on paper presented another understanding. As traditional framing costs are prohibitive, I have looked to hang them free, now made possible with the new varnish. However, the integration of parts for the work to be self-supporting requires working both sides. Up/down, front/back, all around!

Colour is delivered with the act of painting; with three-dimensional object making, not so much. Here we assume unseen reality differs from what our senses reveal.

The powder-coating process allows the paint to act more as light splashing through cuts and holes, hugging the edge. However flat the image, the viewer feels the unseen sides. And it seems to be similar to shadows that fall and change on my roiled canvas works.

Material art lives side by side with us. The gaze is not sacred space, it may be private, it is certainly contemplative. As such, in that distance we are aware of the work's fullness. This is the freedom of self-supporting art.

While my art has had this feeling of singularity all along, I have only recently become aware of it. The powder coating deconstructed my work process. This is the joy of changing media. I will always be grateful that Lewis afforded me this opportunity. While it was expensive for us, it was invaluable. The serendipity of these opportunities of means is welcomed, as it inspires expanded expressions, adding words to the language.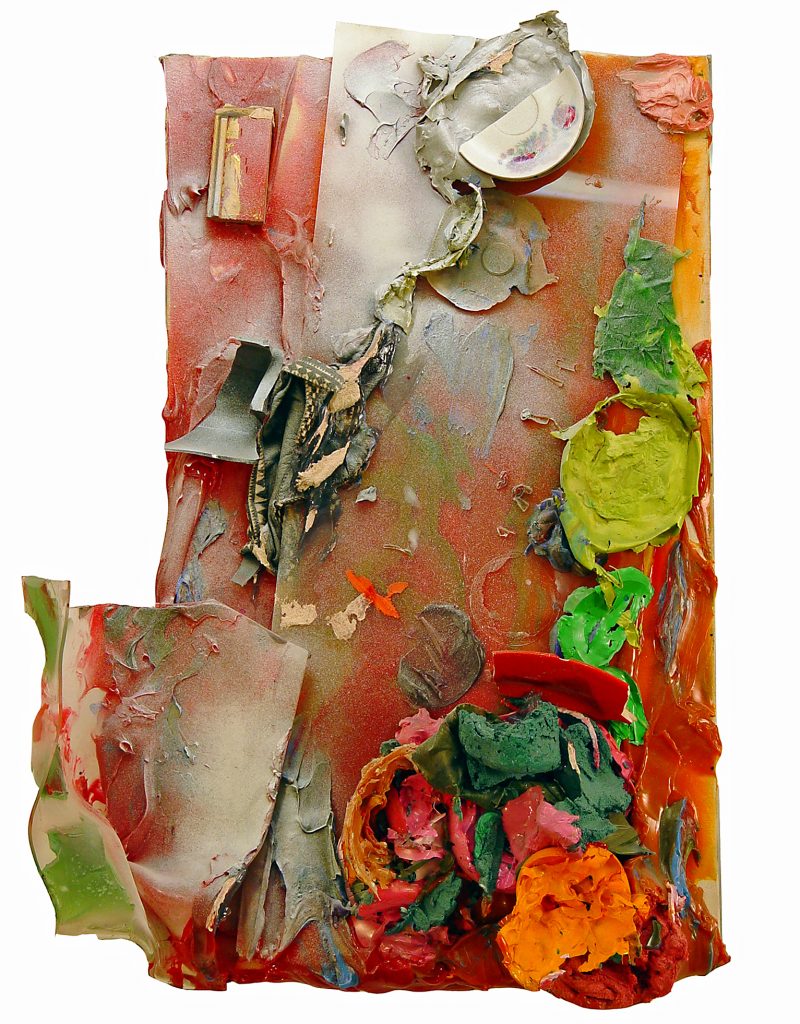 Sam Cornish 17.6.2020
The idea of applied colour on sculpture evoking 'light splashing' reminds me of Olitski's remark to Caro about wanting to paint with a cloud of colour, just hanging in the air. Tim Scott – in his coloured and transparent acrylic sculptures – brought light into sculpture. Interestingly, this proved for Scott to be part of a journey back to directly asserted materiality, although it was also a journey back to Rodin, who was so concerned with how fluctuating surfaces can respond to, and be described by, light. So often the language used to describe 'High Modernism' is linear and always propelling into the future. Now that moment – at least as a strong cultural force – has long dissipated, I wonder if its more complex interrelations – its doublings-back, tangents, and contradictions – could be more fully explored, particularly as these extend into the present.
In a way, I see your work as involved with a broadening of this high-modernist language – perhaps not so much through a singular breakthrough, but rather by pushing different aspects of the language together, and thereby coming up with something new, or at least creating an unexplored space in which to work.
For me that is a good place to end (although there are things we haven't explored – such as your engagement with the history of drapery in the European tradition – Rubens, Velasquez, Titian) – but I think it would make sense if you had the last word… What are you working on at the moment, and where do you hope to go next?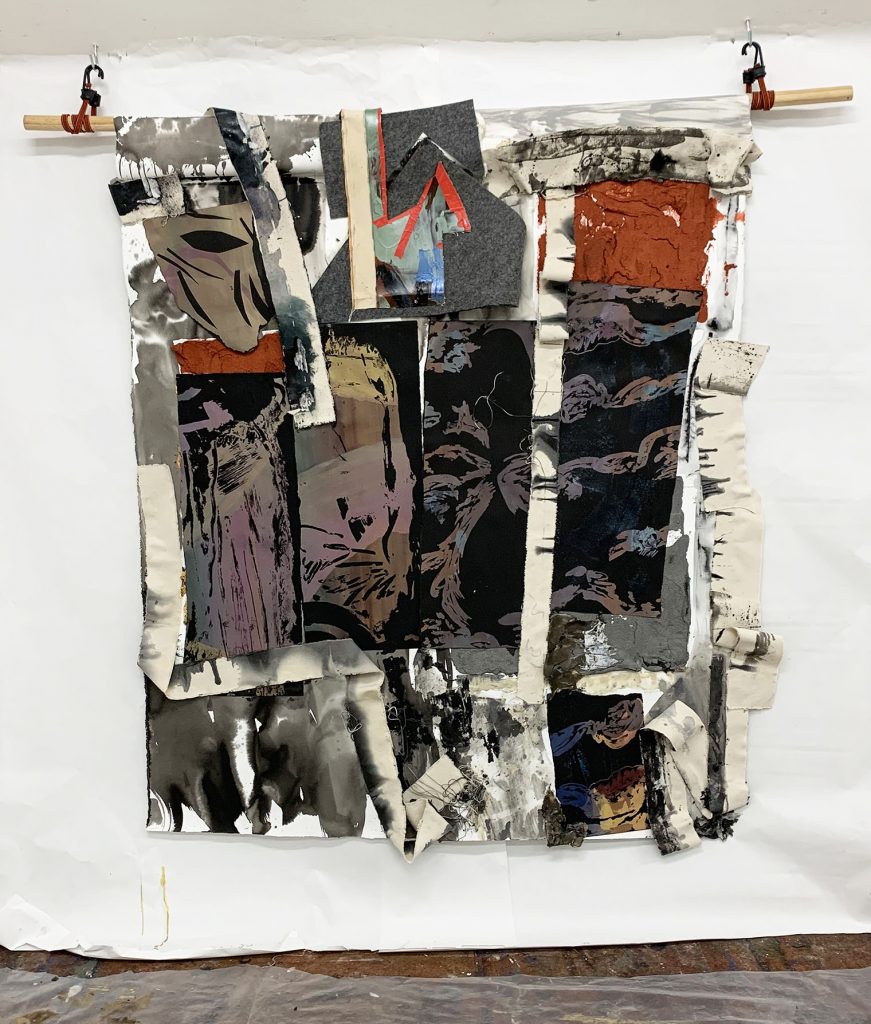 Susan Roth: 20.6.2020
It seems this week I have been repeatedly reminded you cannot escape the times you were born into. We are all in this soup together. The linear nature of High Modernism was accompanied by a narrowing. This is deadly to joy, to seeing, sensing the world and our times. Though the market would have you believe all are welcome, politics arrives, restrictions occur when broadening enriches. It's the doubling-back, etc., you cite that keeps art alive. I am both flattered and humbled to have found the narrow door, as you credit.
Presently, I am working with paper, and it's been a bit of a struggle. At roughly 5' x 6' and self-supporting, there is much to consider; back/front, up/down, how to approach the wall, so it's going along, albeit slowly. The pictures tell me where to go and now turns into next. The first is about to complete itself.
Rodger Mack visited some months before he passed (many years ago now) and suggested a way to work; it stuck. My dreams are filled with synthetic stone and have been for some time. Perhaps there might be a way… my last extended foray with synthetic stone ended with a list of technical questions to solve. I very much want greater scale, which entails the need for armature that this material will accept to provide long strength. Synthetic stone, when wet, is humidity-sensitive. This Fall may present an opportunity to work outdoors, under cover. Like printmaking, this is a team sport, and there are many details that need to be in place.
There is always more while we live. I will be very excited to see how you put this together. Yes, I am looking forward! I will enjoy seeing my thinking. One day we will all move about again and I sincerely – and selfishly – hope we might spend some time here!
Stay safe!