John Bunker considers Frank Bowling's 'Towards Crab Island'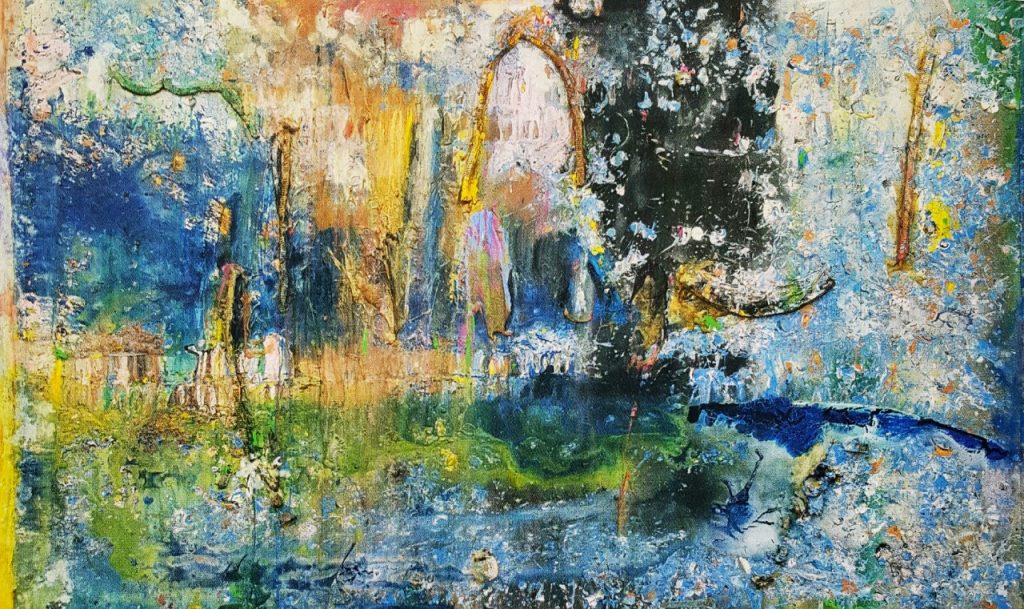 Frank Bowling's painting, 'Towards Crab Island', is all monumental stillness; yet, at the same time, it overwhelms us with its pulsating surfaces, its rivers of effulgent colour pouring forth toward us. The eye flits between contrasting textures, colours and highlights that dance on half-buried materials delineating the painting's zones or territories; or it lingers over darker poolings and eddies of colour, just as one might find oneself looking at the glittering surface of a lake, yet being drawn down into the darker areas of stillness, wondering what might be going on beneath all the reflected light. The bowing and buckling corrugated foam elements that push out from the painting's surface foreground its essential objecthood; but they simultaneously take the eye deep into the painting, catching pigment in their multi-faceted surfaces, ricocheting light across the densely interwoven and paint-loaded fabric. 'Towards Crab Island's physicality is in perfect balance with its intense opticality, between them evoking a powerful, looming, kaleidoscopic sense of three-dimensionality without even so much as a nod to illusionistic perspectival space. Think of those small pools studding the floor of the rainforests of Mexico's Quintana Roo region, that are in fact entry points to the giant flooded caverns and tunnels that lie beneath. The optical impact of 'Towards Crab Island' is akin to the vertiginous sense of awe induced by stepping into what appears to be merely a shallow pond, only to find oneself suddenly and completely immersed, drifting through the cavernous halls of a long-submerged cathedral.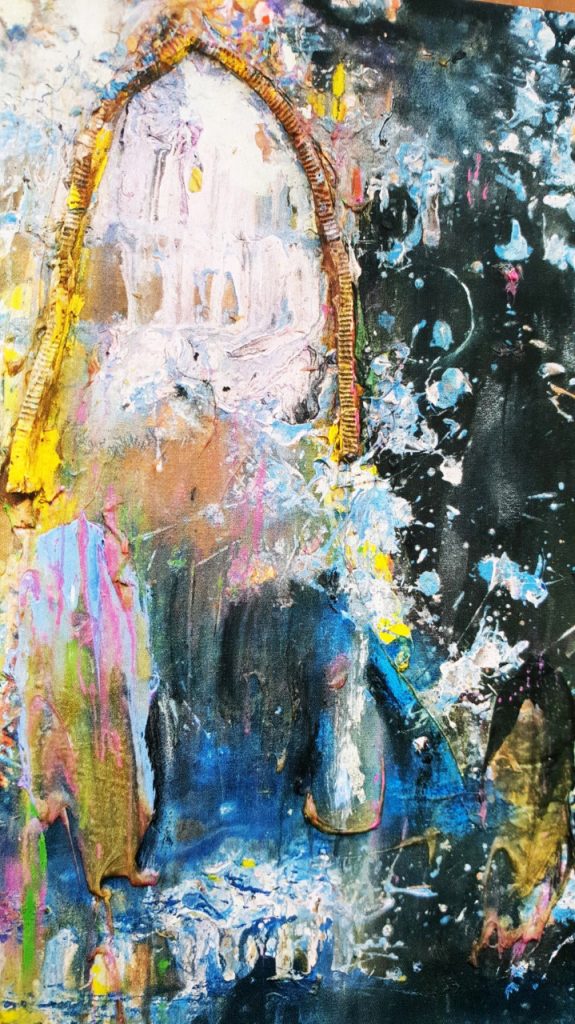 How is this achieved? By the sophisticated play of blues, some hanging like a heavy thick dew, others as delicate as an impossible porcelain replica of the dome of the sky? By the way these blues, the like of which have never been seen before, are bursting through pearlescent gels? Or by the way a small piece of almost-obliterated foam takes the shape of a dirty yellow pointed arch towards the top centre of the painting, emptying itself of an intricate patterning of pink splatters and runs of warm yellows, suggesting gasoline burning on still water? How do all these incidents conjure up the sense of menace in the deeper, darkerspace looming in from the upper right-hand side of the painting? One thinks of Turner, rendering the inchoate tumult of natural forces as he caught them at just such vital and visually arresting points of transformation. However, in the case of Bowling, this sense of constant movement and drama is not the result of mimicking the effects of light on landscape; 'Towards Crab Island's visual intensity is triggered by the complex interplay of the painting's internal geometries, and the way in which they invite the play of colour, texture and light. Bowling whips up his own storm of visual invention; base matter is made to do things it has never done before. Seemingly irreconcilable elements have been forced, finessed, cajoled, chased, cornered, seduced into new wholes, into new painterly unities. When this is happening, when all these strategies are in play, a painting comes alive. 'Towards Crab Island' will always come alive to us.